Chilled Mango Cantaloupe Soup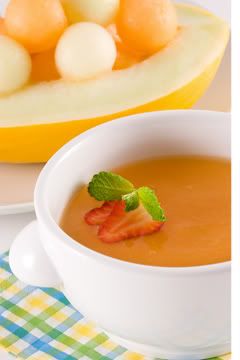 Try it! Chilled mango cantaloupe soup is sure to become a classic in your house too. Exotic and refreshing. This is a summer soup so good it oughtta be dessert! My husband's favorite dinner request all summer long... now THAT'S saying something.
Prep Time: 10 minutes
Cook Time: 1 Hour 10 Minutes
Ready In: 1 Hour 20 Minutes
Servings: 24
--------------------------------------------------
INGREDIENTS
½ cup sugar
½ cup boiling water
4 cups frozen mango chunks, thawed
2 cups fresh or frozen cantaloupe chunks, thawed if frozen
3 cups of milk, divided
1 ½ cups of whipping cream, divided
4 tablespoons of lemon juice
¼ tsp. ground cinnamon
--------------------------------------------------
DIRECTIONS:
1. Dissolve sugar in boiling water; set aside to cool.
2. In food processor with knife blade, process ¼ of the fruit with ¼ cup of milk until smooth.
3. Transfer to a large bowl and continue until all the fruit has been processed.
4. Pour fruit mixture through a wire mesh strainer, discarding pulp. Set aside.
5. Stir sugar mixture with remaining 2 cups of milk, 1 cup of whipping cream, lemon juice, and cinnamon.
6. Cover and chill until ready to serve.
7. Drizzle remaining cream on individual bowls of soup in a decorative pattern to garnish.
Scroll Down to Write A Review!

Don't forget to READ THE LETTERS
that lead to this advice!


Enjoy!
Whitney & Liria
Why stop with Chilled Mango Cantaloupe Soup? Return to the Home of Relatioship Advice with Recipes & Spice.